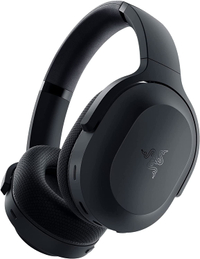 Razer Barracuda | Wireless | Bluetooth/2.4GHz | Noise-cancelling | £159.99 £108.49 at Amazon (save £51.50)
This headset is a jack-of-all-trades. Go from your PC to your mobile, to your consoles in just a few easy steps. A 3.5mm wire, USB Type-C dongle and Bluetooth make most devices compatible. It has Razer Synapse compatibility to boot, letting you tweak the EQ to suit your hearing needs. Not the most budget-friendly gaming headset, but one I believe is well worth the investment at its sale price.
Sometimes you need a headset that can do it all, and I've been finding the Razer Barracuda to be the perfect solution for me. If you're after a wireless headset that can be used across all your gadgets and gizmos, now is the best time to nab the Barracuda over on Amazon with a nice £50 discount, bringing it down to £108.49.
It's the more expensive cousin of the Barracuda X—which is also available in the Black Friday sale in both black and quartz pink, and is perfect if you want a cheaper headset with better microphone performance at the sacrifice of Bluetooth. That cheaper option will set you back £55.99 But as an iPhone user, I've been loving how easy it is for me to switch between numerous devices with the standard Barracuda headset.
I've been using the headset wired with my PC thanks to the 3.5mm cable included. When I'm done with work and heading off to the gym, I've been going wireless and connecting to my iPhone to jam to some music while I lift. The Barracuda doesn't look quite as 'gamer-y' as Razer's other offerings which I've found really lends to their versatility. While music can get a little muddied in these, they've been great for getting me through workouts and blocking out the incredibly loud gym classes happening across the room. The Barracuda also has Razer Synapse capabilities with the option to tweak the EQ on your phone for a more tailored listening experience.
I've even been using the Barracuda on both my PlayStation 5 and Nintendo Switch thanks to the included USB Type-C dongle for 2.4GHz connections. My Steam Deck FOMO has led to me playing a bunch of my Switch in bed lately, so I've been making good use of the Barracuda headset for games like Splatoon 3 and Animal Crossing so I can hear what I'm doing. It's been nice to have such a flexible headset that I can use across all of my regular devices, and the 40-hour battery life means I can flit between each gadget for a few days before they need to be charged.
If the £100 price point is still a bit out of your budget, there are a ton of other cheap Black Friday gaming headset deals happening across all corners of the internet.