Building a gaming PC on a budget? Ebuyer has an impressive CPU deal to get you started. They're offering an Intel Core i5 9600K 3.7 GHz processor for for £220 (saving you £48), but that's not the best bit. You'll also get a whole bunch of software to go with it—like Battlefield 1, World of Tanks, World of Warships, and a 3-month membership of GRFX Studio Pro—and a £20 gift voucher for online retailer Green Man Gaming as well. And there's plenty to spend that bonus bit of pocket money on; the latter's having a sale on everything from No Man's Sky to Monster Hunter World. What's more, they're knocking off a further 12 percent if you use the code summer12. You could get a very tidy bargain out of this deal as a result, not to mention superb value for money.
Is the i5 9600K the best CPU for gaming? No, but it's a good all-rounder for most users. While it won't blow the doors off with technological wizardry, it will handle modern games at 1080p very nicely indeed. It's a 6 core, 6 thread processor, which is decent enough for mid-range gaming builds. Intel lists the ability to overclock to a max speed of 4.6 GHz, which gives you something of a boost in terms of processing power as well (although it's possible to get to 5 GHz), and that reduced price makes it super affordable. Because of this, the i5 9600K is a great CPU for those just starting out or looking to game at a slightly lower cost. The bonus software is another win, of course, even if some of it won't set your world on fire.
Intel Core i5 9600K 3.7 GHz + loads of software + £20 Green Man Gaming voucher | £220 (£48 off)
There's a lot of value in this little bundle. The software might not be to your taste, but who can say no to free stuff?" data-widget-type="deal" data-render-type="editorial">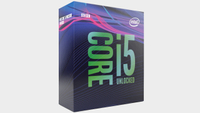 If this is the foundation of your first gaming rig or you have a system in need of a refresh, be sure to check out our guide to the best gaming PC build for the next step. It's an easy-to-understand list of all the kit you'll need to build a must-have system, including the best graphics cards and the best SSD for gaming. If saving cash is still a big factor (and that's totally fair), head over to our budget gaming PC build page too.
Some online stores give us a small cut if you buy something through one of our links. Read our affiliate policy for more info.